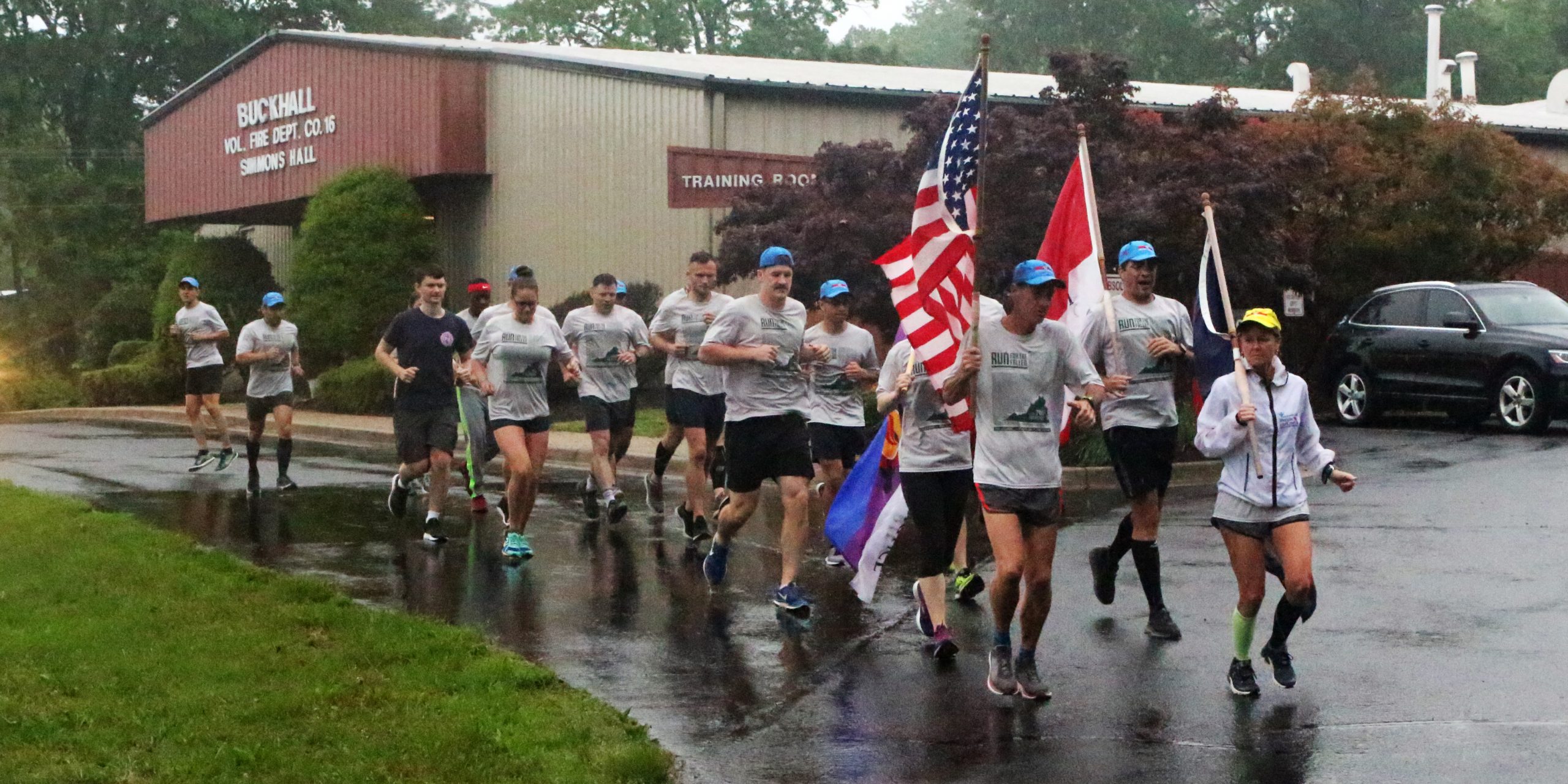 VIRGINIA
RUN FOR THE FALLEN
Fort Story to Arlington National Cemetery | 250 Miles
Route Directions
Day 1 – 67 miles - April 30
Virginia Beach
7:00am, Ft Story out the gate to Atlantic Ave, right turn on Shore Drive follow until it turns left into Ocean View ave. Norfolk. HM20, 10:46 am. Load runners and drive over Hampton Bridge Tunnel.
Hampton – 11:17 am, unload runners on Mallory St/Lancer St toward HM21. continue on Mallory St, left on E Mercury Blvd. follow to right turn on N Armistead St, left on commander Shepard Blvd, right on ramp to Magruder blvd/George Washington Hwy/Rt17. End HM40, 2:28pm before bridge. Newport News, York County
Yorktown – 2:28 pm, load up runners and drive across Coleman Bridge pay toll. 2:48 pm Unload runners at base of bridge and continue toward HM41. Need to consider and navigate tolls with caravan.
Gloucester – Continue George Washington Hwy/Rt17 to end day 1, near West Point area. End HM67, 7:25pm.
Day 2 – 75 miles - May 1
Gloucester – Begin at HM67, 6:30am continue George Washington Hwy/Rt17 to Port Royal/AP Hill. Right on Rt 301 to Dahlgren, End HM142, 7:13pm. Caroline, Essex, Middlesex, King George, Dahlgren.
Day 3 – 69 miles - May 2
Dahlgren – Begin at 142, 6:00am. Start at corner of Rt 301 (Valero) and Dahlgren Rd headed south. Right on Rt 3/Kings Hwy. King George, Falmouth, Fredericksburg, Stafford.
Rt on Jefferson Davis Hwy./Rt 1, HM168 10:20am. After HM184, 1:00pm. Partial team veers into Quantico Marine Base toward HM185, 1:10pm. Turn left on Russell Rd into Quantico Marine Base. Continue on Russell/Fuller around loop through base, turn right Rt 1. HM192, 2:20pm. Left on Rt 234/Dumfries Rd, 2:50pm, stay on Dumfries Rd past Prince William Pkwy and stay right keeping on Dumfries Rd. Dumfries turns into Grant St. Then Left on Wellington, right on Aston to American Legion Post #10. End HM215, 6:23pm. Prince William County, Manassas
Day 4 – 34 miles - May 3
Manassas – Begin toward HM216, 7:30am. Starting at Buckhall FD, (Yates Ford Rd) heading west on Yates Ford Rd Right on Prince William County Parkway, Right on Liberia, Right on Route 28 (Centreville Road), Right on New Braddock Road, 9:00am, Cont. straight on Braddock Road Left on Ravensworth Road, 11:10am. Continue then right on John Mar Dr, follow to right on Columbia Pike 11:40am, to Ft Myer, left on S Courthouse Rd. Rt on 2nd St. End HM247, 1pm. proceed into Ft Myer to Old Ft Myer chapel, honor our last marker at HM248, then through gate into Arlington National Cemetery and to Sec 60, Final ceremony 1:30pm. Fairfax County, Burke, Annandale, Baileys Crossroads, Arlington